Vobis offers complete workflow solutions for EPP foam molding.
Frames are made from 16Mn high manganese steel Q345, spray coated with zinc.
Steam pipeline with steam and air valves are made by GEMU (German manufacturer)
Hydraulic system with piston pump are made by Rexroth (German) and driving components by Yuatsuseiki (Taiwan)
Control PLC and touchscreen are made by Siemens, and control of the steam pipeline with valves from COSYS (German) employing digital flow control.
Gallery: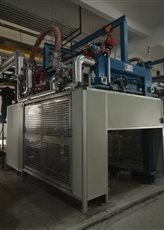 All photos are property of Vobis, LLC and may not be used without the permission of Vobis, LLC.
Headquartered in Easton, Pennsylvania, USA
Telephone: 610-905-3791